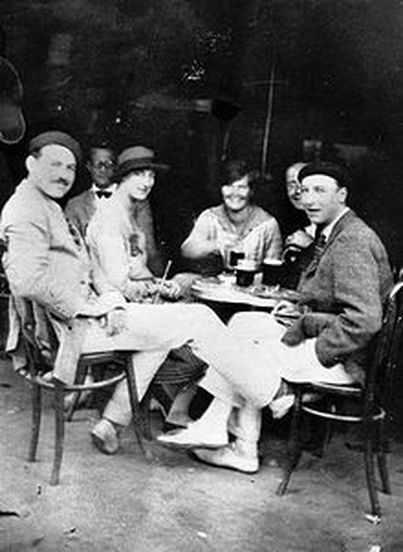 Lady Bret
Here is a photograph of five friends taken at the San Fermin festival in Pamplona, Spain in 1925. From left to right it is Ernest Hemingway, Harold Loeb (in the background), Duff Twysden, Hadley Hemingway, Don Stewart (in the back and obscured), and Pat Guthrie. It is this core group and the experience at the festival that summer that gave Hemingway the idea for the book
The Sun Also Rises
.
I've always loved this photograph. For me it captures the essence of the expatriate experience. It is another land, another language, another existence altogether. Who is taking it, I wonder? Everyone seems so happy and charming. Look at Loeb in the bow tie and Hadley's bright smile. It seems like a delightful way to spend a day on a sidewalk cafe in Pamplona.
The friends are there for the bull fights. The Festival of San Fermin is centered around these extraordinary, gruesome fights that take place every year between July 6th and July 14th. The
running of the bulls
, or the
encierro
, involves hundreds of people running with bulls down the narrow streets of old Pamplona. Six fighting bulls are accompanied by six
oxen
, which are usually white and brown in color. They are followed by more oxen and shepherds in green shirts holding long poles. The run ends in the
bullring
, the Plaza de Toros, and takes about 3 minutes altogether.
The
encierro
begins every morning at 8 a.m. from July 7th through the 14th. The circuit has changed only slightly since 1852. The origin of this tradition came from the need to move the bulls from outside the city to the bullring for the bullfight. It is not clear when people began running with them.
The origin of the bullfight itself is prehistoric. Accounts of the bullfight in Pamplona date back to the Middle Ages.
I agree with Harold Bloom's assessment of
The Sun Also Rises
. Essentially, it is a period piece. As with Picasso and Munch, the book has become a stereotype. It is a postcard that happens to fall in the absolute golden age of American literature that anyone can appreciate. Today it is cliche and prone to parody. Still, it remains an indefatigable testament to the Lost Generation (one of the book's original titles, in fact). Who is not entranced by this time in American letters?
Some of the characters have not held up. Brett and Mike, critics maintain, belong uniquely to the
Jazz Age
and do not translate into the modern era. The inherent anti-semitism and romantic treatment of the bullfighter is distasteful, but accurate for its time.
The story, nevertheless, holds up. The strict, straightforward narrative of Jake Barnes endures, however difficult it may be to take seriously. The gist of the story revolves around Jake Barnes, a quintessential anti-hero, and Lady Brett Ashley.
Lady Brett's real name was Duff Twysden. She had been twice married, the second time to a British aristocrat, hence the title, and twice divorced. Not many photographs of her exist. Friends remember her as the life of the party. She was in Paris in the spring of 1925 with her Scottish fiancée, Pat Guthrie, when she met Ernest Hemingway.
Hemingway was enamored with her. He brought her to his apartment at 114 rue Notre-Dame-des-Champs to meet his wife, Hadley. Duff and Hemingway became friends. They frequented cafes together in the Quarter and Montmartre. Hemingway loved to listen to her and watch her. He studied her like an artist studies a subject, writing down her expressions.
"It's like living with fourteen men so no one will know there is someone you love."
"We can't do it. You can't hurt people. It's what we believe in place of God."
"I have to have it and I can't have what I want with you so I'm going to take this other thing."
"I have never been able to have anything I ever wanted."
"And I looked at you and I thought I wouldn't be able to stand it."
"What a shame he put the top thing down just as we came up."
"What are you so merry about? What were you so merry about the other day?"
This the talk of insiders, the conversation of friends.
Mike Strater, an expat artist from Louisville, Kentucky, told Hemingway about a bullfight and Hemingway was intrigued. He wrote a story about a bullfight based on the conversation with Strater called "The First Matador Got the Horn." In the story the first two matadors are severely gored and the last matador, a kid, must kill all five bulls. To write about the ring honestly Hemingway would have to experience the spectacle.
In the summer of 1923, Hemingway and Bob McAlmon, publisher and prominent Left Bank literary figure, who co-wrote my favortie account of the period,
Being Genuises Together
, took the Sud Express to Madrid. They were to meet a mutual friend, Bill Bird, a publisher as well and journalist. Hemingway experienced his first bullfights there. Already, McAlmon noted, there were too many Anglos and Americans to his liking. Bird noticed Hemingway's fascination with the bullfights. They saw sixteen in all.
From Madrid the three friends travelled to Seville, Ronda and Granada. On that first trip to Spain, Hemingway took many notes, focused mainly on the bull fights. He studied the ritual in all of its grotesquery. There was a magic in it for him. Hemingway watched the crowds react. "It is the only popular amusement on which it is impossible to bet," he wrote. And, "An art, not amusement." He listed all the famous bullfighters and noted when the picadors' horses were gored by the bull and disemboweled before them in the arena.
Back in Paris, Hemingway shared his experiences in Spain with Gertrude Stein and Alice B. Toklas. It was, after all, Stein and Toklas who "discovered" a primitive fiesta in Pamplona at the Spanish foot of the Pyrenees. Stein encouraged Hemingway to visit.
In the summer of 1923, Hemingway and Hadley, well into pregnancy, arrived in Pamplona by bus. They could not secure a hotel room but stayed in a private house for six days, which cost the same as two months' rent in Paris. The Feast of San Fermin in Pamplona is chaos. There is the Riau Riau, fifes, drums, reed pipes, fireworks, canon shots, brass bands on the plazas and noisy cafes around the clock. It is music, rowdy street dancing, binge drinking and bullfights. It is a primitive Dionysian ritual. Dinner in the region is held after 10 p.m. It would appear that nobody sleeps for the entire week.
The young married couple, Hadley especially, loves it. They watch the runners race the charging bulls to the Plaza de Toros. That week five of the eight matadors will be tossed or gored. On July 10, there is an earthquake followed by a tremendous summer storm and another quake the next day. The festival goes on.
On the last day, because the others before him could not continue, the young matador Algabeno must kill five Villas bulls, and he does. It is the same scenario Hemingway devised in the matador story before he ever saw a bullfight.
It's funny how fiction sometimes dictates the future.
The Hemingways return the next summer. They take the Sud Express to the Basque coast to catch a connecting train to Pamplona. This time they have reservations at Hotel La Perla, and Hemingway is able to purchase ringside seats for all the bullfights. Friends meet them there. There is Eric Edward Dorman-Smith, "Chink," an English soldier from the First World War, McAlmon, George O'Neil, Don Stewart, John Dos Passos and his girlfriend, Crystal Ross. McAlmon, Bill and Sally Bird will meet them down there toward the end of the week. The men push themselves to the limit.
Chink, Stewart and Hemingway jump in the ring to "play" fight with the amateur bulls. Stewart gets tossed and cracks two ribs. It is an exciting time, good fun to be had by all.
The Hemingways plan on Pamplona again the following year, 1925. They plan on meeting up with friends Don Stewart, Bill Smith, Pat Guthrie, Duff and Harold Loeb. Hemingway is unaware that Duff and Loeb met up for a week in St. Jean-de-Luz, a seaside coastal retreat in southwest France. This indiscretion left Loeb and Guthrie at odds with one another. In an attempt to ease the tension Hemingway becomes emotionally involved in the situation, and it is this feeling that sets the groundwork for
Sun
.
Pamplona is the usual chaos. Duff and Guthrie are drunk the whole time. Loeb vies for Duff's attention in a phony gentlemanly way, which infuriates Hemingway to no end. It is a magnificent week of bullfights. There is an experienced matador, Belmonte, who works the ring masterfully and a young up-and-comer, Niño de la Palma, who performs brilliantly. There is an incident between the young bullfighter and Duff, another crucial component to the novel.
Things between the men come to a head when a conversation between Loeb and Hemingway almost comes to blows on the sidewalk. Tension between the two friends is relieved when they are able to laugh it off over the sheer ridiculousness of the situation.
The week together ends uneventfully. Hemingway and Hadley go to Madrid to experience more bullfights. And it was there in Madrid that Hemingway began his story, which he titled
Fiesta
. "I saw him there for the first time in the Hotel Quintana in Pamplona. We met Quintana on the stairs as Bill and I were coming up to the room to get the wine bag to take to the bull fight. "Come on," said Quintana. "Would you like to meet Niño de la Palma?"
At this point Hemingway had the experience and the know to put a good story together, and what better material to work from?
Happy Birthday Hem
END 7/21/15
All Aboard
Pretty much everything David Foster Wallace wrote about cruisin' in "A Supposedly Fun Thing I'll Never Do Again" for
Harper's Magazine
in 1996 holds true. Temperatures are still uterine; the sea and the sky are indescribably and beautifully blue; the very sun itself still seems preset for pure comfort. Our cruise through the western Caribbean was almost the same as his port for port, except for one considerable difference. We brought kids. Three of them. And we were, I am certain, the only couple on board with three kids. When we shared this detail with our newfound cruise friends, they shuttered. You could see the pain in their contorted faces.
Why would you do that? What were you thinking? You're supposed to leave them at home!
I wished someone would have asked us this when we booked the trip. We thought nothing of it at the time. They were seven, three and two. They were riotous and insane. The two-year-old drew more attention than the ubiquitous and annoying Cruise Director. Kid management turned out to be the most arduous task. But we had backup. My wife's sister came along. She was literally a godsend, an angel. Otherwise we would have been babysitting for the most part.
We know now that Wallace went with a friend on that cruise back in 1995. It is interesting that Wallace presents himself as a "pseudo-journalist" on a solo excursion in the essay. He basically makes fun of the entire experience. I couldn't imagine taking a luxury cruise alone. There might not be anything more depressing. Taking three kids with you, however, might foot the bill.
Sun 4/26/15
Travel Day - Fort Lauderdale, FL
Up at 6:00 am. We get ready, hit McDonald's ($25) and head to the airport. I give her brother $10 for the ride. We check in on the sidewalk. $75 for the bags. I'm over $100 deep and haven't even walked into the airport. Security is a breeze. We arrive in Ft. Lauderdale as scheduled at 12:45pm. We have a tight transition. We need to be on the boat by 3:00 pm. More importantly, the lunch buffet closes at 2:00 pm and we're banking on it. We scramble for our luggage at baggage claim and make a beeline for the cabs. The heat outside is stifling. It's a shock to the system. We wait in line thirty minutes for a cab. The driver tells us the two-year-old is too small to ride.
Catch the shuttle, he says.
I'll meet you at the pier, I tell my wife.
I walk back to the little cruise shuttle kiosk and wait for an attendant. The two-year-old is acting goofy now with the unusual schedule and lack of sustenance. He makes repeated getaways. I sweat to keep up with him. A man finally arrives at the kiosk.
We need to get to the boat, I tell him. Is it $18 for him, too?
Don't worry, bro. I got you, the man says.
What do you mean?
Throw me a ten spot, he says, and I won't charge you.
The shuttle ride is billed directly to our account. Technically, I won't know that he doesn't charge me until after the cruise. And so begins this strange agreement of not really knowing how much things cost and how much I'm spending. Still, I say ok. The man walks out towards the massive airport windows and looks around suspiciously. I think this is probably a bad way to start the trip. An older lady attendant suddenly appears with a clipboard. The man scratches his head and apologizes.
I don't think I can do it now, he says, and walks away.
A few minutes later he walks by and says, I got you, bro.
Now I'm confused. This is my very first impression of cruise line personnel. On the shuttle I meet Happy Couple #1 and Happy Couple #2, who are dear friends. Happy Couple #1 wife is my wife's client. We all have kids and are able to commiserate. Unlike me, these people are cruisers. They know everything there is to know about cruisin' already. My wife's client will share with me virtually every detail in rapid succession until we reach Port Everglades. The Happy Couples insist we're going to have the time of our lives. Happy Couple #2 husband kind of shrieks in excitement as we approach the pier.
The colossal ship looms over us from the dock like a castle. I meet my wife at the pre-check-in check-in. Port Everglades is a kind of strange Interzone of seedy activity. Who knows what the hell is coming in on all those containers? Eventually, we will board the luxury cruise liner and miss the lunch buffet by exactly two minutes. We will learn that the buffet closes at 2:00 pm sharp no matter who you are or how many screaming kids you have in your arms. This will be your second impression and first important lesson: ship time is painfully precise and to the point. We embark on the high seas at 4:00 pm. At 4:30 pm there is an emergency safety drill, which takes a long time. The kids are screaming. I'm sweating. We lose each other in the crowd and reconvene at the room, which is small and comfortable, thirty minutes later. We freshen up for dinner, which is precisely at 6:00 pm and formal! People there are in tuxedos. I'm decidedly underdressed in cargo shorts.
From Port Everglades, a bustling industrial area, the ship turns toward Miami and the adjacent Keys. Over dinner we will discuss the $300, 15 drinks per day perquisite. If one of us buys it, maybe all of us can indulge?
"Well, how many drinks can you consume in one day," I ask.
"Probably four to five," E. says.
"Me, too," my wife says.
"On a good day," I ask.
They shrug.
"Won't it seem conspicuous if you keep going back to the bar for drinks? I mean, you're not going to be able to sit around ordering round after round, are you?"
"I don't know," E. says.
"Well, how much do drinks cost?"
"I don't know."
"You should find out first, because if you do this thing you will be obligated to get drunk and stay drunk the entire time."
"Pretty much," my wife says.
"Right," E. says.
We head to the deck to explore the ship. We will learn that the kids' camp could not be farther from our room. It is 14 floors above us and on the exact opposite end. Most of our time on the boat will be spent shuttling back and forth from the kids' camp. We hit the pool which, to our surprise, is sea water and illuminated green from beneath. Night at the Museum II plays above us on a giant overhead screen. The kids frolic and splash in the water. It is comfortably humid. The cloudless sky is full of stars. The ship rocks gently beneath us. For a moment it's all worth it.
Mon 4/27/15
Destination #1 - Key West, Florida
In the morning we dock in Key West, a fabulous little seaside village. The southern-most tip of the United States, it is about 90 miles away from Cuba. Everything is scenic and picturesque. Everyone is friendly. Sans kids we pass Truman's White House. Roosters run around the street chaotically. Happy Couple #1 wife posts: "Toes in the water, ass in the sand."
My wife sees this and asks, "And you want to see the Truman house?"
From Truman's "Little White House" we walk to the Hemingway house. We are impressed. The tour is top notch. We head to the southernmost point of the United States for coconut water. Other than fish, it appears there's not much to do on the island. We book a glass bottom boat tour on the spot and head out to the world's third largest barrier reef. Five miles out from Key West the water is only four feet deep. We see a barracuda, a stingray and an amazing variety of fish and seaplant life. It is such a delicate world down there at the bottom of the sea. On the way back I see the captain looking over a chart. The chart is marked and weathered.
"A well-worn sea map," I say.
"It's a chart," he says. "On land it's a map. On sea it's a chart."
"Right," I stumble. "Any good fishing around here?"
"Oh, sure. You just have to know where to look."
"Right."
Back on land we visit Sloppy Joe's for a "Papa Dobles," something I've always wanted to try. My wife and I are bickering over something or other, and E. is annoyed with us. We promise to remain civil, but now it's time to go. The ship will leave in twenty-three minutes if we are on it or not.
We will pick up the kids and have dinner. Then we will drop them off again and go explore the weird, self-contained ship nightlife.
There will be an amateur production of singing and dancing in the grand theater. It seems, though, that the audience enjoys this tremendously. We will find the early evening comedy show surprisingly funny. I'll watch the Bulls lose in the sport's bar with a dozen other people from Chicago while my wife and her sister win big at the casino.
On the way back we run into Happy Couple #1 husband. He's drunk and screams out to us that he's going to the casino. Last time, he tells us with the utmost confidence, he won $3,000. Just watch what you're doing, I tell him. It's easy to lose a lot of money here. I go back to the room to put the kids asleep. Happy Couple #1 husband will scream to me from across the breakfast buffet in the morning that he won $1,800.
Tues 4/28/15
Day at Sea
We ride along the western coast of Cuba heading for the Cayman Islands. The weather is perfect. The sun is bright. The sky is big and blue. The heat now is thick and tropical. It's windy on top of the ship. Standing at the front on the very upper deck it's almost uncomfortable. There are window partitions and nooks and crannies to stand behind. The view is spectacular. The sea is infinitely beautiful, but surprisingly empty. There seems to be no traffic on the high seas. I read about a fishing trip in these parts back in the forties. On the first day gentleman fisherman reeled in a 600 pound marlin and hit another within fifteen minutes. The second day the crew spotted a whale shark, the largest fish in the sea at about sixty feet in length. On the third they saw a school of killer whales. It seems that these species are long gone. It seems that, despite the appearance, the sea is sick. Specks of green algae dot the crystalline surface.
We take the kids to the pool and eat more than is humanly possible at the lunch buffet. We catch part of a game show in the theater and watch a movie at the outside theater while the sun sets. Then I go pick up the kids while my wife and her sister go out. I order room service. It's a good life.
Wed 4/29/15
Destination #2 - Grand Cayman, British West Indies
From the ship we take a boat ride to Georgetown. We catch a cab to the beach and secure two chairs with two umbrellas for twenty dollars. The waves are powerful enough to knock the kids down, but beaches are a specialty of ours and we enjoy ourselves. I'm pretty sure a pimp offers us a ride back to the port. My suspicion is confirmed when the lady taxi driver tells me he's a hustler. Nevertheless we return safely. Georgetown is a rough place. It is not idyllic or friendly. It's not organized in any discernible way. Streets and sidewalks spread out in every direction. People are laidback and content.
It's date night for my wife and I. We learn from Happy Couple #1 wife that Happy Couple #2 are getting divorced. We feign surprise. We go to a cigar bar for a whiskey tasting and cheap Dominicans. Here's the thing. We don't drink whisky and we don't smoke cigars. But we're in Rome and feeling sprightly, and for a few hours it's like when we first met, that is simply running around and having a damn good time. There is an art gallery and a romantic hall with string music. We hit the Latin Dance party and catch the late night comedy act. We go up top for daiquiris and mojitos. The moon is out. The stars on this side are unfamiliar. The night is warm and relaxing. Waves churn rhythmically beneath from propellers into the past.
Thurs 4/30/15
Destination #3 - Cozumel, Mexico
Our excursion is cancelled due to inclement weather. We end up taking an offer to visit a resort for a free cab ride around the island. This 75 min tour ends up being the highlight of the trip. We were invited into an all-inclusive seaside resort. A very polite and well-spoken man interviewed us together near the pool. After innumerable questions, I'm not really sure what he's after. I know he's selling something, but I'm not sure what. He takes us to some kind of penthouse and explains to us in bits and pieces the program, essentially a vacation package. We watch an eight minute video in a small theater room. From what I gather the deal is that, for a reasonable monthly payment, you're able to book five star hotels in major tourist destinations around the world at your leisure. There are seven major resorts in Mexico available at almost any time. There are also stock options. The rep takes us to an extravagant bar. Through the window there is a pool whose far side blends in with the horizon. Beautiful people are swimming and sunning. We're drinking mimosas now. The rep is relieved by a salesman who talks and talks and talks. Eventually, I have to tell him there's no money. I tell him that, even if I were in jail, I would not be able to procure a dime. We tell him we like the program, it's just that there is no money. A champagne bottle pops behind me, and everyone cheers. Apparently, the couple behind us agreed to sign. Suddenly, I feel like this is David Fincher's
The Game
. Are the couple behind us actors? Is this shit for real?
They are for real. Pleasure here is an industry, an absolute certainty, if you can afford it.
True to their word, the half-day cab ride is legit. My wife asks the driver in Spanish where we should go and what we should see. He takes us to a tequila farm. We visit the Mayan ruins of San Gervasio and the beach. I rent a surfboard for an hour and hit the waves. The water is receptive and I catch a few stellar waves. We pick up some odd and ends and head back to the ship.
We catch the Divas show at the theater, which is basically live music videos and excellent. We find a karaoke session which features a live band and another late night comedy act. I'm surprised at how many Floridians are on the boat. They know all the tricks of the trade. Cruisin' for them is a way of life.
Fri 5/1/15
Another Day at Sea
Our last day at sea is kind of depressing. Already my wife is packing. It seems like we were just getting in the groove, and soon it will be time to go. Rarely do we ever have time to spend together as a family. Rarely are we able to enjoy each other's company for any significant length of time. For a few days we are able to be together as a family, travel through exotic lands that especially cater to the great American tourist, and keep each other company.
There are many activities on the last day. There are formal events and goodbye ceremonies. We lay around the pool and take it easy. My wife learns that Happy Couple #1 wife lost her wallet in Grand Cayman. There is no cell service, and she is unable to cancel her credit cards. There was $400 in the wallet and all of her identification. Now I feel bad for crying about a $300 camera I left in the cab in Cozumel. We take the kids to play a game of miniature golf. We try our hand at shuffleboard but the puck doesn't glide well over the ship's deck. We go up to the volleyball nets and knock a weather-beaten ball around.
For a moment we are content.
Sat 5/2/15
Travel Day - Chicago
The party is over. It is now time to leave. Exiting the vessel will be just as painful as boarding. We receive a statement for what we spent that week. It's surprisingly low. We will spend a long dull day getting home. We will in fact rush home to catch the fight of the century, which turns out to be a dud. We recuperate for one day until we go back to work and school. We will think about our next adventure. Will it be the eastern Caribbean this time? The Pacific? The Mediterranean?
It's all about fun and family. Let's do this.
E N D 6/16/15
Teachers

Everyone has a special teacher somewhere along the line, that music teacher, librarian, or neighbor who went out of their way to make a difference. Mine was Mr. Johnson. He was my junior year high school American Lit teacher. I think I caught him at the cusp of a mid-life crisis. He had grown disillusioned with the school system and shook his head at the purpose of it all. He was exceptionally open to our class. He went out of his way to make literature mean something to us.
There are many people who will read this and remember that class. I'm sure their memories of the class will vary. To them Mr. Johnson might not be as significant. To me he was a savior. Just as we caught him at a transitional cusp, so he caught me at a pivotal moment in my life where I was just about to quit school from sheer boredom and disgust.
I think it was the subject matter and Mr. Johnson's enthusiasm for the material that really woke me up. It was Hawthorne, the bore, Melville, Emerson, Thoreau, and Wharton on up through the twentieth century. Up until this point I had a hard time extrapolating the "meaning" of stories. I could read "Hills Like White Elephants" a hundred times and never the know the story is basically a conversation about an abortion. Mr. Johnson helped facilitate my understanding of the material. He pointed out the signposts. He explained the American literary tradition to us, showing us the root, the tree, the branch, the leaf, the fruit.
Emerson changed everything.
His ideas impacted me in ways I still cannot explain. I found I could assimilate ideas from books with great efficiency and use them in other areas, other disciplines. I began writing seriously at this time. To explain how terribly pathetic these first efforts is beyond me, but I remember a notebook of aphorisms, vague and Confucius-like, about the general overall condition of mankind. Philosopher I decidedly was not.
I was impressed with "Bartleby, the Scrivener" and "The Open Boat". These two stories still stand out as two of the very best. Mr. Johnson took the time to explain the context of these stories to us. If something appealed to us he went out of his way to bring it to the forefront. I remember reading Ethan Frome in one night, riveted. We were absolutely blown away by Whitman. The poems really shook me. We'd never been exposed to such a thing. Literature had never hit me that way before. I remember asking Mr. Johnson question after question.
It was the discussion and the course work that really brought the material to life. Mr. Johnson examined texts critically, bringing real life into the equation. What would you do? Have you considered..., he often began. The Great Gatsby was his favorite. He read from it as if it were sacred.
It was the Beats that really broke through and brought it all together. Mr. Johnson took a few of us to see Allen Ginsberg give a poetry reading at the Chicago Cultural Center downtown. I'd never been to a poetry reading before, and I'd never experienced anything like it. Mr. Johnson didn't ask us for anything. In fact he bought me the book, Cosmopolitan Greetings, which sits on the bookshelf behind me. He dropped me off at a corner plaza because I was always embarrassed to let people see that I lived in a trailer park. I found my friends down the block at our usual hangout.
"You know what," my friend Dave said. "If that's your thing, that's your thing."
But what had I accomplished? What exactly was I after? One day we were instructed to write an essay in class on some subject or another. I decided to draw on everything I knew. Don't worry about the details, I told myself. Let it go. The next day Mr. Johnson pulled me aside and told me my writing was the best he'd read. He said I was the best writer in the class. You must concentrate on your writing, he told me. That was it, the end result of a school year's worth of work. I found my place, a direction.
I bumped into my freshman year high school Lit teacher, Mr. Baricovich, "Uncle B," at the Chicago Symphony Center just recently. He asked me if I remembered the books he taught that year: Count of Monte Cristo, A Tale of Two Cities, Of Mice and Men…. I remember Mr. B donned a cape and danced around the class reciting Shakespeare to us. We reminisced about those mornings fondly.
"What are you up to these days," he asked.
"I'm a writer," I said.
"Really? What kind of horse do you ride?"
We talked about Mr. Johnson, and he relayed to me the details of how he had passed.
"Too early," he said. "Too young."
"He was the best," I told my former teacher. "He lit us up that year."
Literature does not mean to me now what it meant to me them. Now, we know, literature is a sham, a high and mighty publicity stunt meant to serve the sorry machine. The character Adrian Jacobs in a movie called Untitled claims that our idea of Mozart is corrupt. He says that the concept of melody was a capitalist ploy extolled by the bourgeoisie to sell sheet music. Today literature serves no purpose, it seems, other to confound and intrigue the young mind. We do not read anymore. We experience life and ideas through a slew of technologies, but we do not read (unless it is required of us). The Great Gatsby was not written for teenagers in boring classrooms…. To me it's about good writing. Clarity of thought and concept, whatever the form. The purpose of literature is not to instruct but to inspire.
It is to explore the infinite realms of being, myriad points of consciousness, the terrifying and fabulous world.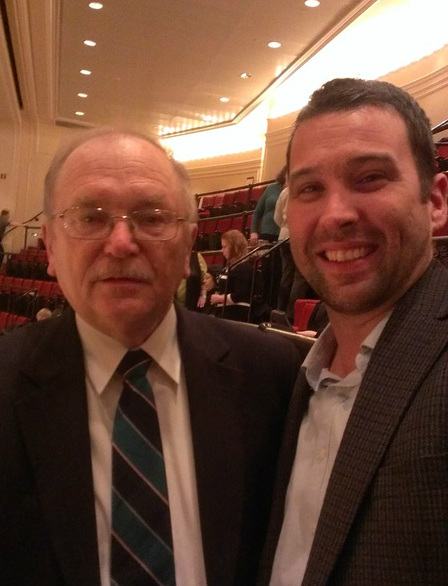 Mr. Baricovich and I at the Chicago Symphony Center, May 2015. He passed on 12/30/17. Rest in peace, my friend.
​
​END 1/10/18